- Press -
Marshall, Michigan
Internet service in Marshall was slow, so the city built its own fiber-optic network
Marshall worked with consultant Jim Selby, president of Aspen Wireless Technologies, a broadband consulting firm based in Maple City, Michigan.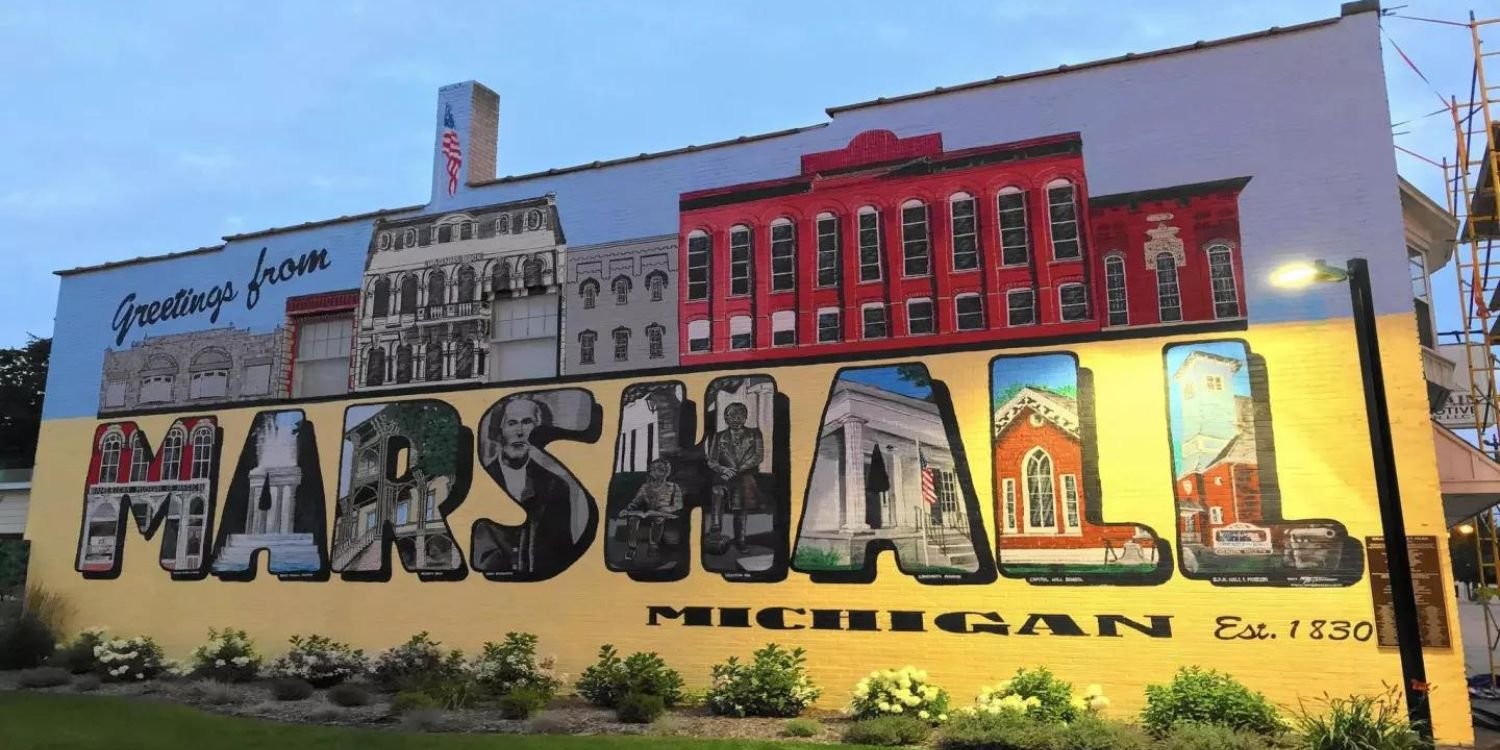 Internet service in Marshall was slow, so the city built its own fiber-optic network
It used to take Marshall resident Samuel Rodriguez upwards of 48 hours to upload a video to his YouTube channel, "Loud, Confused and Ready."
He knew that uploading a five-minute video shouldn't take longer than 10 minutes but dealt with the slow upload speeds because he didn't have much of a choice. Other internet service providers didn't have significantly better service than what he was getting from AT&T.
Then he found out about the city of Marshall starting its own ultra-high-speed fiber-optic network.
"We were anxious for it," he said.
Marshall started connecting customers to its $2.5-million fiber network, Marshall FiberNet, earlier this year. It's only the second city to offer its own citywide fiber connection in the state.
A fiber-optic connection is considered the gold standard of residential internet connections, according to BroadbandNow, a website that helps consumers seek out internet providers.
How fast is the Internet service now?
DSL and cable use the existing phone and TV infrastructure to transmit data. Fiber uses light. And light moves fast. Very fast.
Like 186,000 miles per second fast, which allows for speeds up to 1,000 megabits per second. To stream on multiple devices, most households need a 25 megabits per second download speed.
Marshall FiberNet offers 50 megabits per second for both downloading and uploading starting out for $40 a month and up to one gigabit for $200 for residences. FiberNet offers different packages for its commercial customers.
Before Rodriguez' speeds were 12 megabits per second for downloading and one for uploading.
Now a Marshall FiberNet customer, his videos are uploading in minutes instead of days.
"It's been phenomenal," he said.
How they brought Fiber to the city
The discussion of the city owning its broadband network began in 2015.
"We were looking at how to grow the city and how to make it more vibrant," Marshall Director of Electric Utilities Ed Rice said. "Really, Marshall is underserved for high-speed internet."
City council members suggested the city take a look at what could be done to increase internet speeds.
"That's what kicked it off," Rice said. "It was really geared more towards economic development."
Michigan is one of about 20 states that limits the ability for municipalities to build their own networks, said Chris Mitchell, director of the Community Broadband Networks Initiative of the Institute for Local Self-Reliance.
Mitchell, an expert on community broadband networks, runs muninetworks.org, which provides resources to communities thinking about building their own networks.
In Michigan, the Metropolitan Extension Telecommunications Rights-of-Way Oversight Act required that Marshall first put out a request for proposal to any company that would want to provide fiber-to-the-home service in Marshall. No one responded.
Additionally, the city had to do a cost-benefit analysis to make sure the venture would be cost-neutral.
Marshall isn't in this business to make a profit. "We are in it to provide good service to our residents and our business and commercial customers," Rice said.
How much did it cost the city?
The cost-benefit analysis showed the city would spend $2.5 million constructing the fiber-optic network and that it would cost $1 million a year to run.
With the city's population at more than 7,060, the total customer base available for Marshall FiberNet is about 4,200 premises, which includes residences and businesses.
About 38% are expected to hook up to the service.
In March of 2017, the city council approved the go-ahead for the engineering, designing, and constructing of the network.
"The city had an advantage because we are a municipal electric utility," Rice said. "It was pretty straightforward to get the fiber attached to the poles because sometimes that could be a pretty convoluted process."
This year, the city moved on to the hook-up phase. So far, there are about 650 customers on the network and about 500 others who want to be.
The $2.5 million to construct the network was paid for with inter-fund loans. Some of the money was borrowed from the city's electric department and from the local finance district authority.
"We haven't started paying it back yet, but we are going to real quick here," Rice said, "probably in 2019."
The city estimates it will be able to pay off the $2.5 million in five years.
Marshall worked with consultant Jim Selby, president of Aspen Wireless Technologies, a broadband consulting firm based in Maple City, Michigan.
The company has worked with dozens of municipalities across the U.S. and is booked with work for the next two years.
"We are very excited about all these communities that are coming online and all the communities we are in discussions with," Selby said. "Back in the olden days, you had to be a multi-billion dollar AT&T to roll these fiber networks out. Now, it can be done in the hands of the community, and that's very empowering."
AT&T offers fiber speeds to more than 30,000 residents and small businesses in Western Michigan, but AT&T Michigan Spokeswoman Teresa Mask said the company doesn't currently offer a connection powered 100% by AT&T Fiber in Marshall.
To some select customers, the provider does offer internet speeds up to 100 megabits per second.
Rodriguez had the basic high-speed internet package with download speeds of 15 megabits per second and one for uploading.
Publicly owned internet service
Marshall is one of about 150 communities in the nation that offers citywide internet services, Mitchell said.
Five years ago, there were fewer than 100.
"They are very dissatisfied [by] the options from the big cable and telephone companies," Mitchell said. "In our experience, the cities will reach out to the providers and ask them to improve service. They will typically respond and say it's adequate and doesn't need to be improved. Those companies have a limited amount to invest, and they will invest it where they can get the most profit."
Other than Marshall, only one other municipality in Michigan offers citywide fiber and that's Sebewaing, a town of about 1,000 residents in the Thumb region, according to a national Community Network Map by the Community Broadband Networks Initiative.
"We like to say we were a first-gigabyte community in Michigan," Superintendent of Sebewaing Light and Water Melanie McCoy said.
Sebewaing started its network four years ago.
"We are a small rural community, and we just had very limited and slow service, and none of the incumbents [internet service providers] were looking to expand in our area," McCoy said. "It's one where we said we had to do it on our own."
Sebewaing's cost analysis predicted that 50% of potential customers would join the network within the first three to five years.
"We were over that in two-and-a-half years," McCoy said. "We are now at almost 60%. There have been many times where people have moved here because we have it."
Coldwater, Wyandotte, and Norway have a citywide cable network, according to the National Community Network Map.
Traverse City has a dark fiber network, which basically means the city has a fiber infrastructure in place available for lease.
The city's Traverse City Light and Power Department is now in search of a vendor to partner with "to assist with the design, build and operations of a larger fiber deployment to the premise" network, Traverse City Light and Power Director of Technology Scott Menhart said. The deployment would be done in a phased approach.
"This may be a tremendous opportunity for [Traverse City Light and Power] to diversify its service portfolio offering along with enabling local control of another community utility (broadband)," Menhart said in a statement.
Holland had its own fiber-optic network initially built in the early 1990s to connect the city's electric substations.
"We overbuilt that and saw the fiber-optics as a resource for the city," Holland Board of Public Works Technology Director Becky Lehman said.
The city leased out the extra capacity and continued to expand its fiber-optic footprint.
"Mostly we have built out to businesses," Lehman said. "We have six internet providers we work with."
The city then decided to become an internet service provider itself to downtown businesses and residents, serving about 100 customers, Lehman said.
City leaders are now considering expanding the area where it offers services beyond downtown.
"At the end of the day, for our residents to have the best thing possible is really what we're after," Lehman said.
Other communities have contacted Marshall to see if they can access FiberNet, but to do so would mean that the community would have to go through the request for proposal process.
Marshall's neighbor, Marshall Township, is currently in the fact-finding phase in its efforts to get better internet service.
"We realize it's a problem," Marshall Township Treasurer Jeff Albaugh said. "It's a problem not just for us hobbyists, but there are some vital businesses, including farms and other commercial businesses, that have a need for it and don't really have any good options for it."
Marshall Township has a population of 3,100.
"It seems that our lack of coverage just shouldn't be," Albaugh said. "It seems there's enough customer base to support a good service."
Albaugh hopes Governor-elect Gretchen Whitmer will continue the past administration's initiative to bring affordable broadband service to all areas of the state.
Michigan ranks 29th in Broadband Now's list of most connected states. The state has 25 internet providers, but 1.1 million people in the state do not have access to a connection capable of 25 megabits per second for downloading, 1 million people only have access to one provider and 382,000 don't have any access.
In August, Gov. Rick Snyder unveiled the Michigan Broadband Roadmap that highlighted three main areas for improvement: access for unserved areas, increased broadband adoption, and advancing Michigan's broadband ecosystem.
"Cities are reluctant to get into this [because] they don't want to have to engage in a marketing campaign against Comcast, AT&T, or WOW!," Mitchell said.
"As more cities like Marshall....show what demand there is, I think we will see more cities doing it."
Aspen Smart Networks is empowering the future of communities.
We're committed to helping every community benefit from the transformative power of smart network solutions that enable municipalities, counties, and regional governments succeed at scale. Get help finding the best ways for your network to work together and power the future of your business.